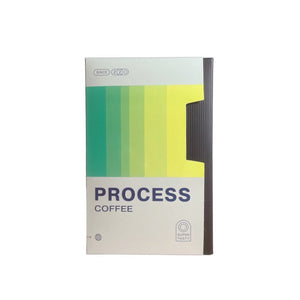 NESTOR LASSO - Ombligon comp lot
After travelling to Athens to share this coffee with the Producer, his export partners and my good friends 'CATA Export', I am so hyped to share this latest release from Nestor Lasso with you.

This coffee lot from Nestor was also the coffee used by Jack Simpson of Australia to place 3rd in the World Barista Championships!! So it's an honour to be able to share the Process profile of this coffee for you guys now. 

Here's the deets on this coffee:
Farm - Finca El Diviso
Varietal - Ombligon
Process - Natural
Taste notes - Tropical fruits, Hazy IPA, Vibrant & Complex

**
From Cata and Nestor:
5 years ago, Nestor Lasso and his brother Adrian took over the family farm and branched out into specialty coffee and experimentation rather than growing coffee like their parents. Today, at 22 and 24, the two brothers have teamed up with Jhoan Vergara, also the child of a coffee farmer, to create El Diviso. El Diviso brings together the two-family farms, El Diviso (Nestor and Adrian Lasso) and Las Flores (Jhoan Vergara), close to the town of Pitalito, in the Huila region of Colombia. This partnership was great as these 3 young guys united their knowledge to improve quality.
Then, 3 years ago, Cat & Pierre, founders of CATA Export and the 3 producers started a journey of trial and error to define the fermentation processes and protocols at the farm, with the aim to link these coffees directly to the UK market. This learning process has been time and money consuming but with an exciting outcome as today these coffees have been used in many barista competitions across Europe. Recently winning 1st place at Brewers Cup in Ireland and 3rd in Austria.
Today Cata Export and Finca El Diviso work as one team. Nestor's and Cat's friendship is a good example of what Cata Export do, working directly from the farms is a very enriching process for them not only for the complexity of topics such as agronomy but also for the relationships Cata builds which ultimately translate into an economic benefit for Cata's community, in this way many more young producers like Nestor have stayed in coffee and have had the chance to build a career.
This coffee has undergone a pretty extension processing at the farm. Here's the breakdown of how that looks from picking to exporting.
THE CHERRIES ARE PICKED AT OPTIMAL MATURITY STAGE, WITH BRIX DEGREES RANGING BETWEEN   21 - 24 DEGREES. THEY ARE THEN PUT INTO OPEN PLASTIC TANKS AND ARE LEFT OXIDISING  FOR 48 HOURS. DURING THESE 48H, THE COFFEE IS MONITORED AND ANALYSED TO MAKE SURE THAT IT IS AT 19 BRIX DEGREES AND THAT THE PH DOESN'T FALL UNDER 5.THEN ALL THE CHERRIES ARE EMPTIED IN A TANK OF COLD WATER AND THE ONES THAT STAY AFLOAT (UNRIPE, LOWER DENSITY, BROCA INFECTED ETC…) ARE MANUALLY REMOVED. THE CHERRIES ARE THEN RINSED WITH WATER HEATED AT 50° C  (THERMAL SHOCK) TO LOOSEN THEIR MOLECULAR STRUCTURE  AND KICKSTART THE FERMENTATION PROCESS BEFORE BEING TRANSFERRED INTO AIRTIGHT PLASTIC BINS TO AND START THEIR ANAEROBIC PROCESS. BEFORE CLOSING THE LID OF THE TANK, BREWERS' YEAST IS SPRAYED ON THE CHERRIES AT A RATIO OF 1:5 (1 GR YEAST / 5KG CHERRIES) DILUTED IN 32°C WATER. THE CHERRIES ARE LEFT FERMENTING FOR 38 HOURS WHILST ENDEMIC MICROORGANISMS AND THE ADDED YEAST MULTIPLY. THE CHERRIES ARE THEN MECHANICALLY DRIED FOR APPROXIMATELY 12 HOURS TO DEHYDRATE AS FAST AS POSSIBLE AND REACHED 18% MOISTURE CONTENT, AFTER WHICH THEY ARE PLACED IN CLOSED PLASTIC BAGS AND LEFT TO STABILISE FOR 2 DAYS IN A DARK ROOM. TO FINISH, THE CHERRIES ARE PLACED IN MARQUESINAS TO FINISH THE DRYING PROCESS FOR APPROXIMATELY 15 DAYS UNTIL REACHING 10.5-11.5% MOISTURE CONTENT.
All Process coffees are sold as 200g
**Roasted on Tuesdays, ships on Thursdays 🤙
SPECIALITY COFFEE BEANS FROM COLOMBIA