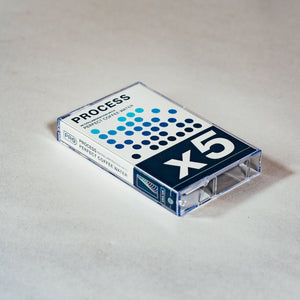 PROCESS X PCW
Introducing the Limited edition PROCESS X PERFECT COFFEE WATER collab cassette!!! 
Process is a global brand now which is mind blowing and I want to make sure the coffee I'm producing can be experienced by us all equally, no matter where we are. To do that, we gotta get the water right! 
This project has been in the works for so long now. The desire always being to take your coffee, and where ever you find yourself brewing, push the taste to 11. Coffee & rad stuff! Always and forever. Perfect Coffee Water uses their unique blend of minerals to create the ideal brewing water to help you make the most of your cup of coffee. ooooosh!
Pick up this with your coffee order and let's crank the coffee together 🤙
Each cassette includes:
x5 sachets - Optimises 5 Gallons of Water
☕️ **EXTRA sample brew bag  & stickers included with each cassette** ☕️
Add 1 packet into 1 gallon or 4 litres of distilled (best results), reverse osmosis, or filtered water.