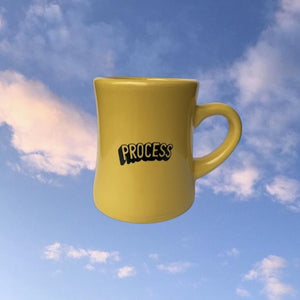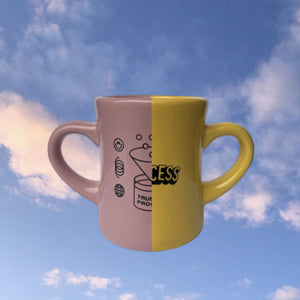 'ALL IN THE PROCESS' MUG
 🤙 SUPER LIMITED STOCK 🤙
The 2nd edition Process Diner Mug is BACK! And it brought a friend. The 'all in the process' mug, is now available in yellow or pink to get the home brew party really going! 
This run is a tip of the cap to this process that we are all a part of. Embrace it, find the joy in it, and share it with your world.
10oz, heavy duty, produced in the US, and may in fact make all your coffee suuuuper tasty.. 
Fill it up, kick back, and soak in the fruits of your process! Full mugs like warm hugs! 
*hand wash only 🤙
*Actual colours may differ from image 
*select 2 for £20 and request whatever colour combo you fancy at checkout*